Aligning Images in OpenOffice.org Writer
Introduction
Recently I've been working on a fairly complex text document using the latest OpenOffice.org Writer 2.0 beta included with Fedora Core 4. I've had to insert several images into the document. I noticed that by default, when inserting an image, OpenOffice.org Writer places the image over any text following its position, and at first I had no idea on how to fix the image placement, I just right-clicked on the image and changed settings on a semi-random manner until the alignment got fixed. I got tired of just guessing, so I finally decided to experiment a little and figure out how to fix image alignment.
Inserting The Image
For the benefit of those new to OpenOffice.org, before we explain how to properly align an image, let's explain how to insert an image into a Writer document. OpenOffice.org supports several type of images, including jpg, gif, png and bmp. Inserting an image into a Writer document is very easy, all that we need to do is place the caret on the location where we want the image, then click on Insert -> Picture -> From File, then select the file that we want to insert from the file system. If there is text after the image location, OpenOffice.org will place the image over the text, probably not what we want. OpenOffice.org supports many types of images, including gif, bmp, jpg and png.
Aligning The Image
After we insert the image, the easiest way to "push" the hidden text down under the image is to right click on the image, and select "Anchor -> As Character", after doing this, the text will be aligned properly. Pretty simple once you have figured out how to do it.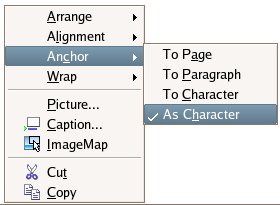 Conclusion
OpenOffice.org is an excellent free alternative to proprietary office suites like Microsoft Office. Although it is a very good office suite, like all software it is not without its quirks. The default behavior of inserted images is one of these quirks. In this article we discussed how to get around the odd default behavior of inserted images into Writer documents.